Master in Cooperation and Development  MICAD BETHLEHEM, PALESTINE
The Master in International Cooperation and Development (MICAD) is a graduate program offered by Bethlehem University that aims at preparing excellent leaders and professionals who are committed to sustainable development in Palestine. Multidisciplinary in its nature, MICAD is taught part-time with intensive lectures mainly on Friday and Saturday, and it covers two academic years. Blending theory with practice, the program is built upon five areas of study and research: social studies, economics, international issues, development studies, and project management.
 MASTER IN COOPERATION AND DEVELOPMENT: STRUCTURE
---
The Master in Cooperation and Development (Bethlehem)  features a 24-month schedule over two academic years. The Program is taught part-time in order to allow participants, which are mainly already employed, to carry out working activities. All classes are given in English by experienced Palestinian and foreign lecturers. Over the two years, courses cover four main areas: Economics, Social Studies, International Studies and Project Management, with a constant focus on the Middle East. After completing all taught courses, students are required to submit a thesis, which represents the core of their academic achievements. Students interested in acquiring field-experience with one of our partner organizations may be assigned an internship. At the end of the second year, students will defend their thesis before a committee of MICAD lecturers. The NGO VIS has the leading role in the management of the Master.
LOCAL PARTNERSHIPS
---
CDN's main feature is that it is not just a Network! It is, most imporantly, a Network of Networks: meaning that due to its specific participatory approach each pole establishes relations and collaborations with local Universities and Institutions, civil society organizations, International Organizations.
More info on this issue will come soon!
CORE CURRICULUM
---
The structure of the program includes five main phases: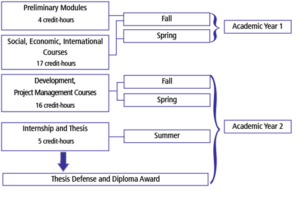 SYLLABUS
---
TIMETABLE
---
MICAD features a 24-month schedule over two academic years, and it is taught part-time in order to allow participants to carry out working activities. The two academic years comprise eleven taught courses, equivalent to 37 Credit Hours: each course is divided into a series of modules, awarding 1 or 1.5 Credit Hours each. All classes are given in English by experienced Palestinian and   foreign lecturers; academic activities are carried out on a weekly basis on Fridays and Saturdays. Attendance is compulsory to all credit awarding activities, and it is registered for assessment purposes.
INTERNSHIPS
---
The MICAD program is a part of an international network in cooperation and development. The activities carried out by students in the other partner institutions ranges from the attendance to specific courses, the pursuit of internships till research activities.
For those students who wish to take the opportunity of a field-experience, it is possible to approach the MICAD partner organizations, which can provide internships.
ADMISSIONS
---
MICAD is offered to a wide range of candidates interested in studying development issues. Participants are selected from NGO officers, international agencies staff, public administration employees and university graduates. International students are welcome to apply, as the program offers a unique opportunity to blend academic studies with field experience. Still, these candidates must carefully consider that Bethlehem University cannot provide support in getting a student VISA. Therefore, it is their responsibility to take appropriate measures through other channels for securing their permanence in Palestine for two years. For each cohort, around twenty five students are selected.
REQUIREMENTS
---
The working language for all academic activities is English, and lecturers are selected among the most qualified faculty in Palestine and also Europe.
Basic requirements are a B.A. degree in any discipline supported by academic transcripts with a GPA of 2.5 and above on a scale of 4.00 (equivalent to 75 on a scale of 100). MICAD scientific committee may accept candidates with a GPA below 2.5 in case it is proved that the candidate has exceptional experience in and shows interest in working in the development field.
Fluency in spoken and written English; standard computer literacy. Fluency in any language other than Arabic is an asset. Working or volunteering experiences in activities for socio-economic development are appreciated, but not strictly required.
SCHOLARSHIPS
---
Since 2007 an extraordinary opportunity has been offered to selected MICAD students: attending a Summer School in Europe about development issues, in an international environment with first-class lecturers and colleagues from all over the world. A limited number of scholarships covering the costs of attending such programs will be provided. Several European universities offer such intensive programs in the Summer time, lasting one or two weeks.
TUITION FEES
---
In the last years, the valuable contribution of international donors has permitted to keep the admission fee well below international standards. Tuition fee is determined on a per credit basis.
PROCEDURES
> Please download here the application procedures
DOWNLOAD THE CALL
> Download the call
TEACHERS
---
Lectures are given by university professors, NGO senior officers and international cooperation experts, most of whom are PhD holders. Courses are integrated by presentations, seminars and conferences organized together with the partner organizations. All events are always open to interaction and dialogue, for we believe it is through active participation that significant results are achieved.
LOCATIONS
---
MICAD Application Packet is available at the University Bookstore. Information about the application procedures is available at the following website: www.bethlehem.edu
Bethlehem University, School of Business / MICAD
Rue de Frères, P.O. Box 9 – Bethlehem – West Bank
Telephone: +972-2-2741241 – ext. 2427, Fax: +972-2-2744440
Office Hours: Monday – Friday / 9:00 – 16:00
---