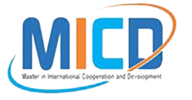 Master in Cooperation and Development  MICD
KATHMANDU, NEPAL
Under the coordination and support of the CDN, a Master Program is being established in South Asia. The Mid-western University (MU) and the International School of Advanced Study (ISAS) of Kathmandu, Nepal launched in the academic year 2013-14 the first edition of the Master in International Cooperation and Development (MICD). In line with the format of all the Master programs, MICD's curriculum follow the structure of the other twin programs but paying attention to the local needs and specificities.
The Master in International Cooperation and Development (MICD), is a post-graduate and multi-disciplinary program aiming to provide students with competencies and skills necessary to contribute to a varied area for development and humanitarian response in Nepal and in the International scenario. The Master's Program is designed to equip learners with both the academic background necessary to approach development in a critical way, and the project management skills needed by NGOs, development agencies and public institutions.
STRUCTURE – Master in Cooperation and Development MICD KATHMANDU, NEPAL
---
Through a multidisciplinary approach, the Master's Program aims to familiarize students with various disciplines and development experiences. Spread over two years, the Program is structured into main courses covering Development Studies, Development Economics, International Studies, Contemporary Studies, Management Studies including results based Project Cycle Management including Internship and Thesis writing. MICD is organized in 4 semesters: while the first three semesters are dedicated in frontal classes, lecturers and classroom teaching learning activities; the fourth semester is dedicated for acquiring practical knowledge and exposure through internship placement in different agencies and thesis writing on development issues.
LOCAL PARTNERSHIPS
---
CDN's main feature is that it is not just a Network! It is, most imporantly, a Network of Networks: meaning that due to its specific participatory approach each pole establishes relations and collaborations with local Universities and Institutions, civil society organizations, International Organizations.
More info on this issue will come soon!
CORE CURRICULUM
---
The Master's Program awards 75 Credit Hours, equivalent to 1200 marks, and covers 1200 learning hours. Each course is divided into a series of modules under different subjects. MICD classes are conducted in part-time mode, intended to allow full-time working students to continue their work without interruption. Lectures are delivered five days in a week, from Monday to Friday, in the morning from 6.30am to 9.30am. MICD classes are delivered in English by international and Nepali academicians, experts and practitioners experienced in cooperation and development sector.
Through a whole range of subjects, the Master's Programme aims at exposing students at various disciplines and development experiences. The Program is structured in crucial areas for development workers and practitioners such as Development Economics, Development Studies, International Studies, Social Studies, Asian Studies, Nepal Specific Studies, Management Studies, Project Planning and Management, Research and Field Studies.
Multi-disciplinary studies
In depth analysis of policies and Practices
Mentored by renowned academicians and experts
Professional insight into development interventions
Participatory teaching and learning approach
Internship placement and research
Part-time mode for working participants
Global network and exchange
SYLLABUS
---
TIMETABLE
---
INTERNSHIPS
---
The Master's Program is designed to provide an academic and practical background necessary to understand, analyze and conduct development interventions in a critical way. MICD aims to provide learners with significant learning exposure required for Project Managers of new generation in NGOs, INGOs, UN Agencies, Bilateral Cooperation Projects, Government Ministries and Departments, including many other development projects.
Master's students will be placed for internship or project work in different organizations for 4-6 months. Internship activities can take place in any suitable organization. The MICD faculty will follow up with the students, organize necessary arrangements and facilitate students to undertake their assignments. The internship experience can be also reflected in the final thesis work. The internship or project work can provide hands on experience to the students experimenting practical aspects of the concept thought in the classroom.
ADMISSIONS
---
Call for admission is open on yearly basis and maximum 35 students are enrolled into the program. The minimum admission requirements are as follows:
Bachelor's Degree: Applicants must have Bachelor's Degree in any discipline from an accredited university in Nepal or abroad. The applicants who obtained their academic degrees from abroad will need to submit an equivalency certificate.
REQUIREMENTS
---
MICD is open to all interested applicants having minimum of Bachelor's degree in any discipline from an accredited university. It is relevant for persons aspiring for professional career in public sector; national and international agencies; development projects; university and colleges; research institutes; private sector at national and international levels. There is no age limit for applicants.
English language proficiency: English is the language of instruction for MICD Program, therefore applicants shall have sound competency in the English language.
Computer skills: Applicants should have basic computer skills, such as world, excel, PowerPoint, internet, e-mail, etc
SCHOLARSHIPS
---
For information on our scholarships please see contact:
MICD OFFICE, Nayabato, Ring Road, Lalitpur, Nepal, Phone: +977-1-5544970, Email: micd@cdnpavia.net, www.facebook.com/micdnepal
TUITION FEES
---
NPR 120,000.00 (One Hundred Twenty Thousand Only) is set for the entire two years period of the Master's Program. The Fee is payable on semester basis by enrolled students.
PROCEDURES
---
Selection process of the candidates will be carried out by the Selection Committee, based on the following aspects:
Assessment of the candidate's application form, academic degrees and records, CV and relevant working experience, recommendation letter, other additional qualifications
Entrance exam, test in English language, on general knowledge about development issues
Interview with the Selection Committee aimed at evaluating candidate's competency and motivation towards the Program
DOWNLOAD THE CALL
---
Teaching Staff (Academic Year 2017-2018)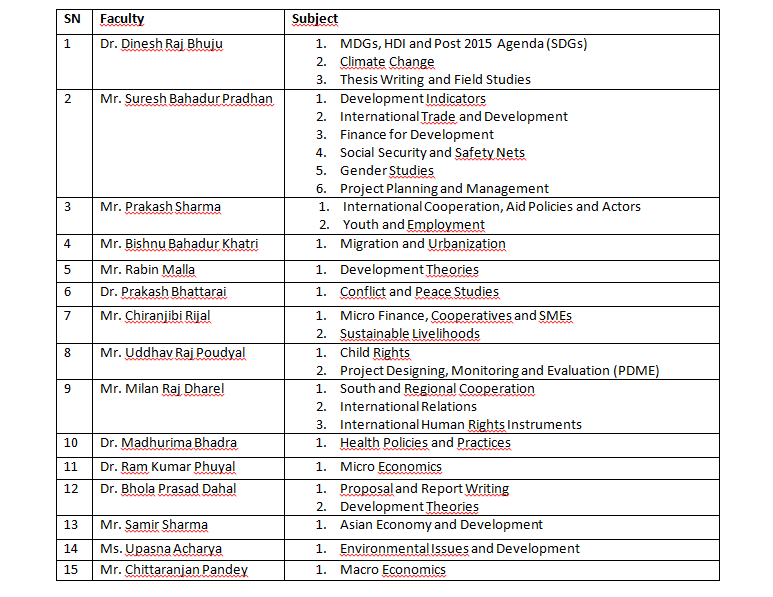 LOCATION
---
MICD OFFICE
Nayabato – Ring Road, Lalitpur, Kathmandu, Nepal
Phone: +977-1-5544970, Cell: +977-9851152229, +977-9851228810
e-mail: micd@cdnpavia.net
website: www.micd.edu.np
facebook page: www.facebook.com/micdnepal
Office Hours: Sunday through Friday, from 7:00 to 14:00
---