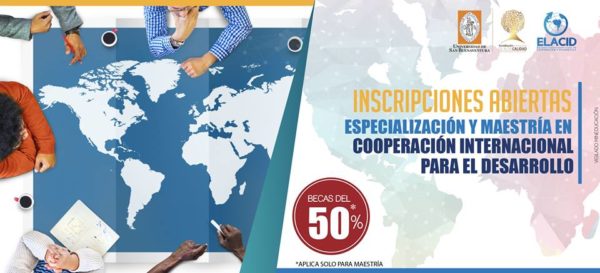 Call for applications to postgraduate programs in International Cooperation and Development
Cartagena de Indias, March 6th, 2018
The Department of Law and Political Science of the Universidad de San Buenaventura Cartagena, through its Escuela Latinoamericana de Cooperación y Desarrollo (Elacid), is accepting applications for Master and Specialization in International Cooperation and Development.
The postgraduate are also part of the Cooperation and Development Network (CDN) and the Red Ibeoamericana Académica de Cooperación Internacional (Riaci).
To keep in mind:
• Application dates: from January 14th to April 2rd, 2018.
• Interviews and selection process: April 4th and 5th, 2018.
• Publication of results: April 6th, 2018.
• Beginning of classes: May 4th, 2017.
Apply:
https://goo.gl/zqzyBe
Learn more:
Scholarships to study Master Degree
http://www.usbcartagena.edu.co/new/index.php/maestria-elacid
Specialization Degree
http://www.usbcartagena.edu.co/new/index.php/esp-elacid
Contact us
inscripcionelacid@gmail.com
+57 5 653 5555 Ext. 139 – 219