OPEN-DAY WEBINAR

IL LAVORO SUL CAMPO NEL MASTER IN COOPERATION AND DEVELOPMENT
June 21st 2023 – 1.00 pm CET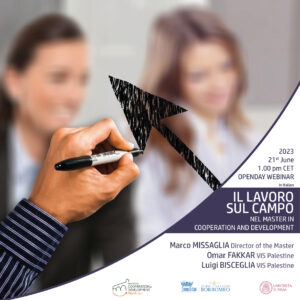 Discussion with:
Marco MISSAGLIA – Professor of Development Economics and Master Director
Omar FAKKAR – Country Administrative Assistant, VIS Palestine (former student)
Luigi BISCEGLIA – Regional Program Coordinator, Middle East, VIS Palestine
The Call for applications for the 27th edition of the Master in Cooperation and Development is now open! This time we want to show you what happens to the students who spend 6 months in the field in the second part of the Master's course, alongside professionals who guide them through their work experience. Which profiles are usually required by NGOs? Which competencies are required? Which specific skills are offered by the Master's course?
Want to know more? Join us for the online webinar!
WATCH THE WEBINAR HERE